"You must not learn to play the piano or take photographs like someone else. You must learn the craft, after which you can take photographs like yourself." Ansel Adams 1983
____________________________________________________
JUST RELEASED…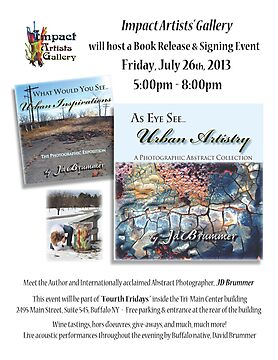 Currently, this book is available for purchase and shipping within the . Please use the Contact page, and send an email regarding International purchases & shipping.
A little extra information on the book: Hardcover, 70 pgs including 38 full color pages and 32 text pages. The book showcases 15 of my most popular abstracts along with their overviews, and more!
Please be sure to LIKE As Eye See's Facebook page to receive all of the current news including information on the first self-published book by JD Brummer featuring some of her most popular Abstract art pieces and their inspirations being released to the public in May of 2013!
____________________________________________________
OffBeat Emporium on Elmwood Avenue in Buffalo, NY now carries As Eye See framed photographic artwork in all sizes for purchase in their furniture showroom. If you're a local resident or just passing through the area, please stop in, support local business and check out their collection!
____________________________________________________
Solo Workshop Award of Excellence
given to the work best exemplifying the attitude, effort, and results to which the Solo Exhibition Workshops aspire.

Anna Cuypers Photography Award
for Excellence in Photographic Creativity
Anna says, "For most creative work I have chosen 'Drops of Jupiter'. The 4 elements of nature were brought together…. Beautiful composition and lighting."
M-Mission Photography Award
for Excellence in Abstract Photography

____________________________________________________
Abstract Photography relies mainly on form, patterns, color, and textures to create unique compositions which exist independently of visual references to the everyday world as we've become accustomed to seeing.
When viewed as such, tightly cropped through the lens of a camera, removing all of the recognizable aspects of the subject matter and depending solely upon our primitive sense of imagination for the rendering, abstractions with an intrinsic and sometimes analogous value unlike any other form of traditional photography begin to evolve and emerge.
Abstract Photography can have an entrancing effect on its audience that becomes intellectually engaging when attempting to solve the mystery of what the photograph was taken. Once revealed, being able to appreciate the familiar object relative to the abstractive translation becomes a new and exhilarating challenge.
The photographic artistry is redefined time and time again in the exclusive interpretations that spawn from each individual's own personal discoveries within the same piece of artwork.
Abstract Photography can be emotionally powerful, creatively exciting, and surprisingly stimulating.
I invite you to explore Photography, As Eye See!
www.aseyesee.com
www.aseyeseephotography.com
www.jdbrummer.com
____________________________________________________
All images in this portfolio presentation are owned and copyright © JD Brummer for As Eye See Photography
2004-2013. They do not belong to the public domain.
All rights reserved.
For more Copyright information, please refer to the About section of this website.